The director discusses using a real person as a launching pad for something a lot more fantastical, and more.
Mark Harris, co-author of a new book on Black Horror, discusses the genre's past, present and future.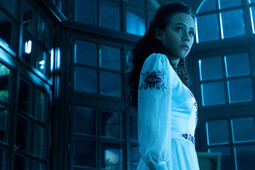 Emmanuel sinks her teeth into horror and celebrates JENNIFER'S BODY.
A stylish reinvention of the Dracula legend, blending contemporary social commentary with gothic romance and horror.
The director talks about bringing the comic book character to life, human trees, vampire films, and Matt Smith's chaotic energy.
Source material, Steve Perry and Journey (yes, the band).
A conversation with directors Gigi Saul Guerrero, Maritte Lee Go, Ryan Zaragoza and Axelle Carolyn.
The actor on The Blind Man's journey of faith and violence.
The writer-producer delves into the complicated morality at the heart of DON'T BREATHE 2
The director of Shudder's latest talks his fantastic and unusual new film.
Watch the brand new trailer and dive in as the filmmaker discusses his latest entry in the series.
The director of Shudder's latest talks vampire mythology, his process and the future of the genre.
The director of Shudder's Borley Rectory haunter discusses parallels between 1930s England and today.