This past weekend marked what would have been the 100th birthday of Oscar-winning Makeup and FX legend Dick Smith. Multi-award-winning FX artist Todd Masters, founder of MastersFX, teamed up with the Visual Effects Society to present the special event in honor of the late FX innovator. "Dick Smith was truly one of a kind. An artist, an engineer, a designer, teacher, makeup innovator and FX alchemist," said Masters. "He blazed the trail for the rest of us in the FX industry. And in many cases, he gave us his first-hand knowledge and even a first job! We felt compelled to celebrate his milestone birthday - to send him love and keep his memory alive… and to re-amplify his genius within the FX community."
In honor of Dick Smith's Centennial Birthday, Masters announced the launch of the "Dick Smith Scholarship" - a scholarship currently being created to honor Mr. Smith's lifelong artistic endeavors. The new scholarship will be presented annually to financially assist young, emerging artists and innovators, so they may carry on Mr. Smith's passion for the development of the Practical FX Arts and Sciences.
Matt Winston, Co-Founder of Stan Winston School of Character Arts and son of legendary Stan Winston had this to say about the scholarship, "The late, great Dick Smith inspired my father Stan Winston to always strive to break new ground throughout his nearly 40-year career in Hollywood. On behalf of Stan, the entire Winston family is proud to support the Dick Smith Scholarship**. We hope it will serve as a lasting reminder of Dick's legacy of artistic and technical excellence and help to empower a new generation of film artists to make the impossible possible."
Left to Right FX Icons Todd Masters, Kevin Haney, Craig Reardon, Bran Ferren, and Kevin Pike.
The birthday bash drew 250 "VIPS, Legends and Geniuses" from the makeup and FX industries to celebrate the life and legacy of Smith. Oscar-winner, Doug Drexler (Dick Tracy,) had this to say about his old friend and mentor: "Dick Smith changed my life, not just as an artist, but as a human being. He was my friend, workmate, mentor, and partner in irreverence. He always had time, never kept secrets, and shaped my life. He inspired and started many on their way. Yet if someone put us all together, we would not equal one Dick Smith."
Makeup artist and lifelong friend of Smith's, Craig Reardon was also in attendance. Reardon read a 1962 letter from Dick Smith to a then 14-year-old Reardon - their very first correspondence. That 60-year-old letter helped inspire Reardon to launch his own career. Following the letter reading, Reardon introduced a screening of the film Altered States, on which he worked as Dick Smith's makeup FX assistant. Reardon went on to supervise many of his own projects, which included the original Poltergeist, the John Hughes classic, Weird Science, and Dreamscape.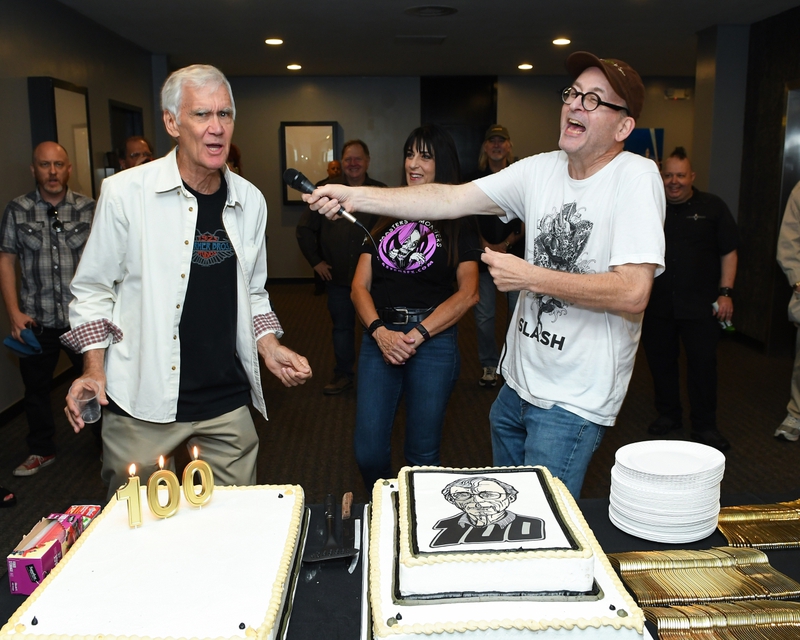 Craig Reardon, Jill Rockow and Todd Masters Celebrate Dick Smiths 100th Birthday
"Dick Smith was like no one I'd ever met nor will ever meet again," Reardon said. "He was an elemental personality--irreducible, unique. The reason we revere his work is the same reason we revere him as a man.  He believed in himself and followed his own mind and heart. There is not merely everything to learn from his work, there is everything to learn from how he led his life and treated other people.  He was a great, great man."
FX Legend Stan Winston's son, Matt Winston, at right, Celebrates Dick Smiths' Birthday with his Wife Amy Smallman-Winston and Craig Reardon.
The Altered States screening was followed by a Q&A with Visual Effects Supervisor Bran Ferren, Special FX Supervisor Kevin Pike, and Makeup Artist Kevin Haney. Haney said, "Dick Smith was an amazing artist, innovator, and all around great human being. He brought me to New York from Ohio to work with him on Altered States, and that experience jump-started an incredible journey in makeup. Dick became my mentor and a very close friend, and it was great to celebrate his 100th." Haney shared the 1989 Academy Award for Best Makeup for the film Driving Miss Daisy. He is also known for his work on The Shawshank Redemption, The X-Files, Planet of the Apes, Iron Man 3, among others. 
While Kevin Pike is best known for supervising the special effects of the 1985 film Back to the Future, his resume also includes FX work on Jaws, Close Encounters of the Third Kind, Star Trek: The Motion Picture, and Jurassic Park III.
Todd Masters and Kevin Pike
Bran Ferren was the former president of research and development and creative technology for Walt Disney following his work on Altered States and Little Shop of Horrors. He's also the recipient of a Technical Achievement Award from the Motion Picture Academy and was Oscar-nominated in 1987 for his work.
At the close of the Dick Smith Centennial event, Doug Drexler concluded: "Ultimately, each of us is a reflection of the people we touch along the way. Dick's legacy is vast. Through all of us, and especially those who worked alongside him, he lives on, and he lives through the magic that we are fortunate to be able to create today. Each of us must live a little stronger, bolder, smarter, funnier, and more altruistically, in our attempts to take up the inestimable slack that he left in his stead." Indeed.
Topics: