And discusses ancestral expectations, nightmare imagery and more.
Lance Henriksen, STAR WARS, and technological advancements.
The duo cite THE DESCENT and JURASSIC PARK among their biggest creature inspirations.
Ari Aster assures us, and more from the BEAU director and star Joaquin Phoenix.
Plus: Making anger funny, Nicolas Cage as a national treasure, and more.
The director discusses using a real person as a launching pad for something a lot more fantastical, and more.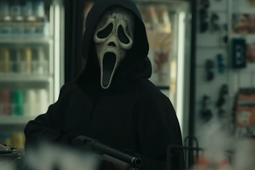 And more from the filmmakers behind the franchise revival.
Wisconsin to California with a dream and a USC acceptance letter.
And more from the director and cast of the new Shudder Original.
Mark Harris, co-author of a new book on Black Horror, discusses the genre's past, present and future.
Discussing art film influences, the emotional side of horror, and the uncanniness of shooting a movie in your childhood home.
The devil is in the details.
From VALHALLA to the PREDATOR universe.
Blood, and gnawing, and stalking, and love.