With Omicron surges on the rise, the Sundance film festival made the decision to move the hybrid festival to an entirely online platform. We can still support these amazing filmmakers from the comfort and safety of our couches, so let's do it! Here are thirteen horror movies coming to Sundance (online). The festival runs January 20th-30th, 2022. Festival packages are now on sale, single film tickets go on general sale January 13th at 10am MT. Digital screenings CAN SELL OUT, so take a peek below and start making your watchlist.
Speak No Evil - Danish actor, director, and screenwriter Christian Tafdrup's third feature follows a Danish family vacationing in Tuscany. While abroad, they become fast friends with a fellow traveling family from the Netherlands. When an invitation arrives months later, asking the Danish family to visit the Dutch in their countryside home, they eagerly accept. The free-spirited and adventurous Dutch welcome the Danes for the weekend, but what begins as an idyllic reunion soon takes a turn as the hosts increasingly test the limits of their houseguests. Now the Danes find themselves caught in a web of their own politeness, trying to understand whether their new friends are merely eccentric... or hiding something more sinister. Premieres January 21, 10:55 PM PST.
Fresh - Mimi Cave's feature directorial debut. Frustrated by the tedious world of online dating, Noa takes a chance by giving her number to the awkwardly charming Steve after a produce-section meet-cute at the grocery store. Sassy banter gives way to an inevitable hookup, and a smitten Noa dares to hope that she might have actually found a real connection with the dashing cosmetic surgeon. When Noa accepts Steve's invitation to an impromptu weekend getaway, she finds that her new paramour has been hiding some unusual appetites. Premieres January 20, 10:55 PM PST.
Master - Mariama Diallo's (Hair Wolf, White Devil) feature debut centers on an elite New England university built on the site of a Salem-era gallows hill. Gail Bishop (Regina Hall), just instated as "Master," a dean of students, discovers what lies behind the school's immaculate facade; first-year student Jasmine Moore (Zoe Renee) confronts a new home that is cold and unwelcoming; and literature professor Liv Beckman (Amber Gray) collides with colleagues who question her right to belong. Navigating politics and privilege, the three women encounter increasingly terrifying manifestations of the school's haunted past… and present. Premieres January 21, 5:30PM PST.
Hatching - Hanna Bergholm's (Puppet Master short) feature directorial debut follows a seemingly idyllic family, existing amid manicured suburban perfection. Tinja's mother showcases their family's existence on her popular blog "Lovely Everyday Life", but beneath the impeccable veneer, friendless tween gymnast Tinja is struggling, spending most of her time striving to please her image-obsessed mom. After encountering a wounded bird in the woods, Tinja brings its strange egg home and nurtures it until it hatches. The creature that emerges becomes Tinja's closest friend, surrogate child, and living nightmare in this tremendously twisted coming-of-age body horror film. Premieres January 22, 10:55 PM PST.
You Won't Be Alone - Goran Stolevski's feature directorial debut stars Noomi Rapace in a dark and unsettling folk horror. In 19th-century Macedonia, a young girl is taken from her mother and transformed into a witch by an ancient, shape-shifting spirit. Left to wander feral, the young witch beholds the natural world with curiosity and wonder. When the young girl inadvertently kills a villager, she assumes her body and continues to inhabit different people, living among the villagers for years, observing and mimicking their behavior until the ancient spirit returns, bringing them full circle. Premieres January 22, 07:45 PM PST.
Nanny - Nikyatu Jusu's (Suicide By Sunlight) feature debut follows Aisha, an undocumented Senegalese immigrant, as she lands a job as a nanny for a wealthy Manhattan couple. Aisha easily wins the affection of their young daughter while also becoming a pawn in the couple's facade of a marriage. The mother is as controlling as the dad is disillusioned and woke. Haunted by the absence of the young son she left behind in Senegal, Aisha hopes her new job will afford her the chance to bring him to the U.S., but as his arrival approaches, a supernatural presence begins to invade both her dreams and reality. Premieres January 22, 10:45 AM PST.
Watcher - Julia joins her husband when he relocates to his family's native Romania for a new job, where she finds herself frequently alone and unoccupied. One night, she spots a vague figure in an adjacent building, who seems to be looking back at her. Soon after, Julia's sense of being watched intensifies, and she becomes certain she's being followed — could it be the same unknown neighbor? Premieres Friday, January 21, 8:00 PM PST.
Piggy - From director Carlota Pereda (There Will Be Monsters). Sara hides away in her parent's butcher shop in a rural Spanish town. As the target of incessant bullying, she flees a clique of capricious girls who torment her at the town pool, only to stumble upon them being brutally kidnapped by a stranger, who drives off with them in his van. When the police begin asking questions, Sara keeps quiet. Intrigued by the stranger — an interest that's mutual — she's torn between revealing the truth and protecting the man who saved her. Premieres January 24 8:00 PM PST.
Shorts:
Tundra - José Luis Aparicio. Walfrido dreams of the Red Woman, whose image persists and becomes an obsession. Something tells him she is near. Over the course of a day, Walfrido will follow her trail as he travels through the suburbs of an infested city. Mixing elements of horror, fantasy, science-fiction, and neo-noir elements, and influenced by the work of directors like Lynch, Argento, Cronenberg, De Palma and Zulawski. Premieres January 20,  8:00 AM PST.
While Mortals Sleep - When a cold case novelist's career implodes, she seeks refuge at her friend's remote vacation home. Upon arrival, she encounters a strange couple who claim to be the caretakers. As tensions build, a dark secret begins to emerge. Premieres January 20,  8:00 AM PST.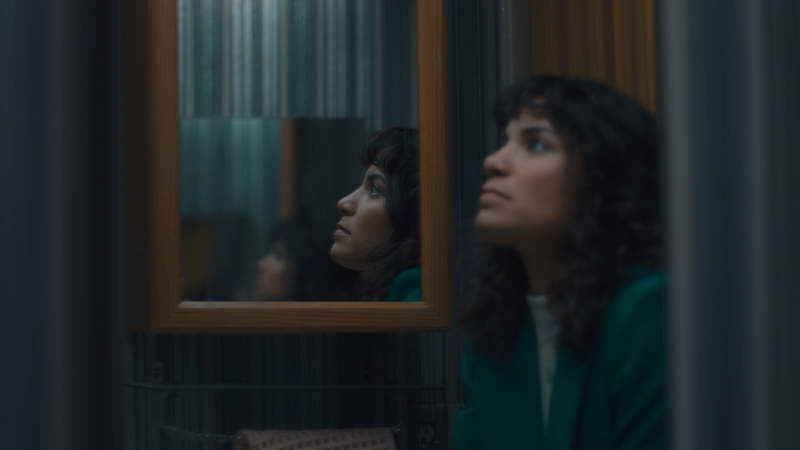 Huella - Dominican writer-director and USC graduate Gabriela Ortega's Huella was produced as part of Lena Waithe's Rising Voices fellowship. When the death of her grandmother unleashes a generational curse, a disenchanted flamenco dancer resigned to a desk job is forced to experience the five stages of grief through a visit from her female ancestors. Premieres January 20, 8:00 AM PST.
Kitchen Sink- From the bowels of the kitchen sink comes a dark and tender love. A nightmare come true. Premieres January 20, 8:00 AM PST.
Night Bus - On a late-night bus, a paniced scream shatters the night's calm, a necklace is stolen, followed by a tragic and fatal road accident. The series of intriguing events that follows reveals love, hatred, and vengeance. Premieres January 20,  8:00 AM PST.
And here's a bonus horror adjacent feature because we think it sounds pretty great.
Summering - It's the waning days of summer for four friends Dina, Lola, Daisy, and Mari, who will soon be going their separate ways when they all start middle school. While planning how to spend their last weekend together, they stumble across a mystery that takes them on a life-changing adventure. The friends make a series of discoveries that are as much about solving the mystery as they are about learning the hard truths of growing up. Premieres January 22,  4:00 PM PST.
There you have it. Tons of amazing movies making their way to the festival, and we think it would be extra awesome if all of the horror screenings in particular sold out across the board. Get your tickets, and let's go! See you at Sundance.