Wait, what just happened? The highly anticipated second season of the horror show about a girls' soccer team stranded in the woods and the trauma that follows thereafter that became an internet sensation just wrapped, and things got even weirder than before. Lots of first-season questions were answered, but many more popped up in their place like a hydra of mystery. Then some moments left me scratching my head, saying "wtf" to myself. It's hard to narrow it down, but after recapping every single episode in "The Buzz," here are the top 10 WTF moments from Yellowjackets' sophomore year.
SPOILERS AHEAD!
---
1. Jackie's "Return"
The season premiere episode of Yellowjackets gave us a jaw-dropping moment. Not only is Jackie's frozen body not buried because the ground is too hard for digging graves, but Shauna hangs out in the meat shed with Jackie's corpse, where she sees visions of Jackie alive and well, and the two chit-chat the days away. Highlighted by cameo appearances from Ella Purnell, who played Jackie in season one, season two proves that when someone dies on Yellowjackets, we may indeed meet them again.
Bonus: Lend me your ear. When one of Jackie's ears accidentally falls off, Shauna stuffs it in her pocket and by the end of the episode... shoves it into her mouth as a little Jackie Communion appetizer.
2. The Roman Feast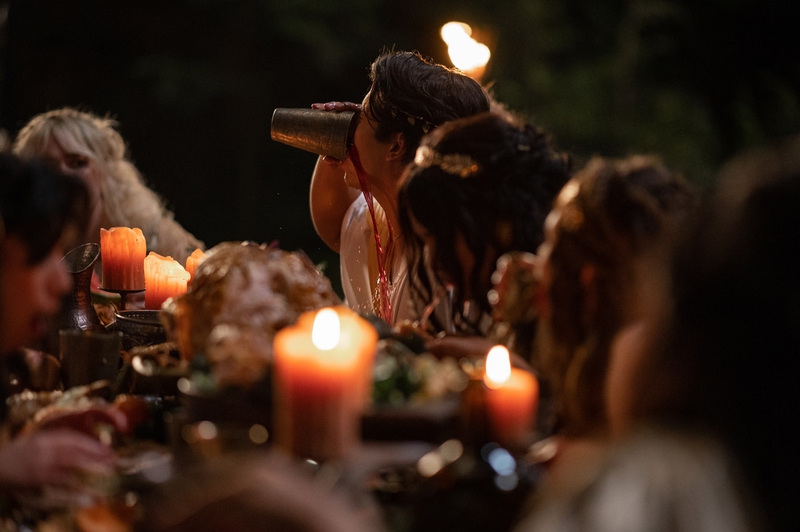 The episode "Edible Complex" gave us our first look into the spiraling collective sanity of the Yellowjackets. After discovering that Shauna has been bonding with Jackie's corpse, the group decides to dispose of her, Viking funeral style. After saying their goodbyes and setting her body ablaze, the woods have other plans and extinguishes the fire. Here, the gang decides to go to town on Jackie BBQ, devouring her corpse like a pack of animals. We always wondered when the first instance of cannibalism would happen, and the moment didn't disappoint.
3. Walter And Misty's FBI Interrogation
Episode three, "Digestif" introduces us to Walter Tattersall (played by none other than screen legend Elijah Wood), a fellow Citizen Detective who Misty meets online. Over the course of their meeting, he eventually agrees to help her search for Nat and offers a strong lead in none other than Randy Walsh. To get information out of him, they hatch a plan to pose as FBI agents, and it's here we realize that Walter is willing to go just as far as Misty (maybe even further) in his pursuit of the truth. They make a dangerous combo, but we love seeing two minds working together like this.
4. The Gang Goes To The Mall (With Laura Lee)
In "Old Wounds," another old friend makes a surprise appearance. When Lottie and Nat decide to hold a hunting competition to provide for the group, Lottie makes her way to a forest altar for a blood offering. In a flash, she's whisked away to a mid-'90s mall with all her teammates in attendance, for a pre-crash hang. Much to her surprise, she encounters Laura Lee (Jane Widdop), who hasn't been seen since her devastating plane explosion in season one. The visit is cut short when Laura Lee notices Lottie and tells her she doesn't belong, sending her back to the snow-covered forest. Was this a freezing temperature-induced hallucination? Was Laura Lee in heaven? Can Lottie communicate with the dead? All unanswered mysteries, but it was nice to see an old friend again.
5. Misty Kills Her Best Friend
Throughout the season, we've seen Misty in the past bond with a new friend. Though she was their equipment manager, she was never really "friends" with any of the Yellowjackets. Weirdly, seeing her bond with Crystal and watching their friendship blossom was nice. That all comes to a screeching halt when they begin revealing secrets to each other, and Misty lets it slip that she destroyed the airplane's black box at the start of the series, causing them to be left stranded in the woods. Rightfully, Crystal doesn't take this news well, and after a brief altercation, she falls off the edge of a cliff with Misty as the only witness. The rest of the season has Misty dealing with the fallout of her death and eventually coming to terms with it.
6. The Mystery Behind Shauna's Baby
Eagle-eyed viewers quickly noticed that Callie, Shauna's daughter, was nowhere near old enough to be the baby she's pregnant with in 1996. So the real lingering question hanging overhead was what became of that baby? Well, "Qui" gave us our answer. After we experienced an entire episode of Shauna bonding with her baby and struggling to feed him, it was revealed he never made it out of the womb alive. Shauna's time with him was nothing but a dream. It was a gut punch of an emotional moment and not what most people predicted.
7. Caligula: The Musical
Perhaps the strangest moment of the entire season lies in "Burial." When the grown-up Yellowjackets convene at Lottie's self-help compound, they decide to undergo some therapeutic treatments. Misty's involves an infamous sensory deprivation tank, and it's here she's whisked away to a stage musical starring Walter and her beloved bird Caligula (played by John Cameron Mitchell). It's strange, hilarious, and wonderful. It feels totally out of pocket for Yellowjackets and an absolute highlight of the season.
8. The Real Death Of Javi
While his death had been hinted at and even faked by Nat earlier in the season, "It Chooses" ended with this shocker of a moment. When Nat is chosen as a human sacrifice, Travis and Javi intervene, giving her a chance to escape. While the rest of the group chases her down in pursuit, Nat and Javi cross the frozen lake hoping to take shelter in Javi's underground tunnel. Unfortunately for Javi, the ice breaks, and he falls into the freezing water. Realizing they still need a sacrifice, the group sits back in shock and horror as they watch him freeze to death while he splashes and clamors about, begging for help. There were so many unanswered questions about his mysterious disappearance and reappearance that it was a shocker not to see him survive the second season.
9. Misty Kills Her Best Friend… Again
Listen, it wasn't easy picking a singular moment from the season two finale. The biggest "wtf" moment to me, though, was 1) the death of Nat… 2) at the hands of Misty. While initiating the hunt on Lottie's compound, Shauna is chosen as the sacrifice. Through a series of events (involving Callie and Lisa armed with various firearms), Misty accidentally poisons Nat, and she dies almost instantly. This feels like a full circle moment for the series as the pilot foreshadows this event when Nat hallucinates Misty while high on drugs, with Misty looming as a threatening presence in the trip. Her death also feels like a callback to when Misty killed Crystal, but she takes accountability for it this time by crying out, "I killed my best friend!"
Also, I still can't believe they killed Nat, a major player in the adult storyline. Who even saw this coming?
10. The Bonus Episode
Throughout the season, there was an ever-present rumor about a secret tenth episode. Cast members mentioned an "Episode 10" in this shorter, nine-episode season. We got confirmation that Jason Ritter would play the dead body the girls found in the cabin, and even Variety had a tenth episode listed. Rumors were high, and no one knew what to expect. So what became of this? Well, series creator Ashley Lyle recently confirmed we *are* getting a bonus episode between seasons 2 and 3… just don't expect it anytime soon.
Well, there you have it. Sign those yearbooks and say your goodbyes because it's time for Yellowjackets to return to hibernation. This season was eventful, and I'm sure future seasons will give us plenty to chew on. If you want a full-course meal, consider reading our recap column, The Buzz, right here.
Topics: