We've been patiently waiting to hear more about Nahnatchka Khan's time travel/slasher horror-comedy Totally Killer for quite some time, and today the good folks at Blumhouse TV threw open the floodgates, offering up a slew of new images from Kahn's film and revealing that it'll hit Amazon Prime this October.
The images (which we'll get to in just a moment!) are as compelling as the film's synopsis (via Bloody Disgusting):
"The film follows Jamie (Kiernan Shipka), whose mom, Pam (Julie Bowen), is terrorized by the resurgence of the Sweet Sixteen Killer—a masked maniac that slaughtered a group of teenage girls in the '80s. With the help of her friend Amelia (Kelcey Mawema), she travels back in time to 1987 and teams up with the teen version of her mom (Olivia Holt) to try and stop the killer."
Hell yes! Finally! The Back to the Future-style slasher we've been waiting for! This is Kahn's first horror comedy, but it's not her first feature: that'd be the uproarious 2019 Netflix comedy Always Be My Maybe. It sounds as though she'll really be swinging for the fences here, and she's assembled one helluva cast to do it: in addition to the aforementioned Shipka, Bowen, Mawema and Holt, Totally Killer also stars the great Randall Park.
Let's take a look at these pics...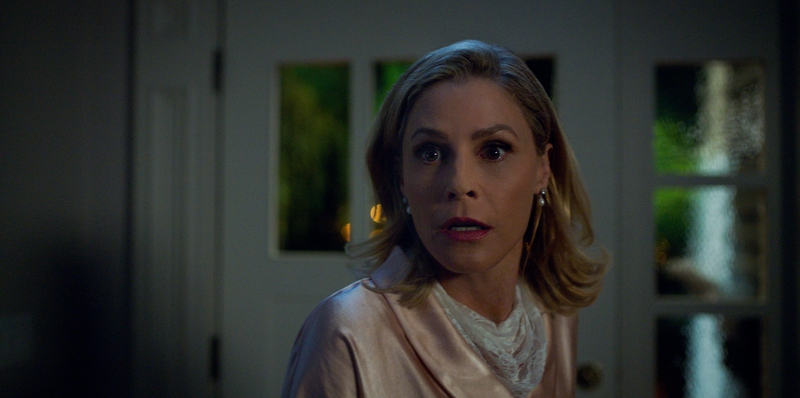 According to the Blumhouse tweet that gifted us the above images (those tweets, by the way, contain a hidden message which reads "You're Next One Day"), Totally Killer will hit Prime Video on October 6th, right smack dab in the middle of spooky season. And, hey, if you're interested in learning more, be aware that we've got coverage on this one in the Fall issue of FANGORIA Magazine!
Stay tuned for more on Totally Killer - including what we're guessing is an imminent trailer release - as further updates roll in!