Overlook Day 1 - Thursday
One delayed flight and an Uber trip later, I rolled my luggage frantically into the Prytania Theater for the Overlook Film Festival's opening night film, Renfield. It was goofy, it was gory, and the Overlook crowd was the ideal audience for the particular brand of fun flickering across the screen. Nic Cage as Dracula is every bit as wonderful as I'd imagined, and Hoult as a brow-beaten familiar turned action star is wonderfully charming to watch.
Writer Ryan Ridley, director Chris McKay, and Dracula himself, Nicolas Cage, were in attendance for a post-screening Q&A. Cage was disarming, wacky, weird, and reverent about the role (which you can read a whole lot more about in the latest issue of FANGORIA). At one point, Cage pulled a fan on stage to show off his Nic Cage as Dracula tattoo. A tattoo before seeing the movie?! Now that is total commitment.
The premiere was followed by what else? A vampire ball. We took inspiration from Only Lovers Left Alive, and as we walked in, we were greeted by the sweet vibey sounds of Jim Jarmusch's SQÜRL.
It basically felt like we were in the movie, blood bags were being passed around and the signature cocktail I ordered came complete with a pair of plastic fangs. We love a well-themed garnish! Wrapping up the night with a late burger at a French Quarter diner (even vampires get famished!) was a perfect nightcap.
Day 2 - Friday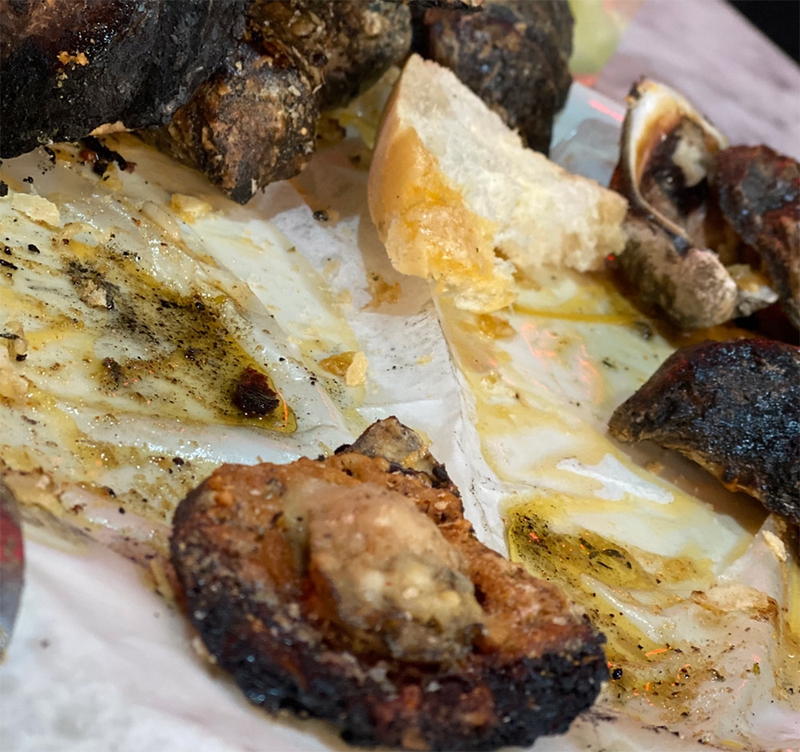 Friday kicked off with Chargrilled oysters, gumbo, and a bit of Mister. Organ, David Farrier's latest real-life horror. I don't know how David is so good at finding these stranger-than-fiction stories but suspect it has something to do with the fact that when you meet him, you just want to hang out and talk with him. Probably safe to assume he has the same effect on real-life villains as well. The screening was followed up with a little Final Exam Horror Trivia hosted by Ted Geoghegan (Brooklyn 45). Now, I did not get a photo of this, so you'll just have to take my word for it. Grady Hendrix and I were on the same trivia team, and as a long-time Grady Hendrix reader, I just think that's pretty fuckin neat. Such is the magical world of film festivals.
In a crowd like this, you've got to score a perfect 10/10 for the slightest hope of a win, and even then, it came down to a tie-breaker between three or more teams. Our small but mighty team of four held our own surprisingly well! The fact that our ragtag haphazard team (we were in line for beer when the first round kicked off) was in the 9/10 and 8/10 range made me pretty damn proud, each team member taking a turn to shine, coming in clutch with an answer that was clearly obvious to them but stumped the rest of the team. I guess we all had our particular forte and formed one well-matched team. Shout-out to Grady Hendrix, Jolene Richardson, and cousin Lucia for coming together as a wonderfully matched horror super-brain! A horror market was also happening at the brewery, with vendors hawking their spooky wares, a collection of femur bones casually spread across a tabletop. That is to say, we were all very much in our element.
Do you know what Doberge cake is? Because I did not.
Until a little pit stop at Bakery Bar introduced me to a cake so good my eyes rolled back in my head, and I thought I might cry. Rainbow surprise wedding cake comprised of seven layers of rainbow cake and six layers of almond-wedding-cake pudding were more than enough to make me a believer and I've dreamed about her every night since. Thanks to the Nobiles for the introduction and new obsession.
Friday night capped off with the fest's secret screening. It was a packed house for Talk To Me, a movie I latched onto early in the year as the film I would champion in 2023. And then A24 picked it up. So I don't think Talk To Me needs much help from me on that front, but I'm gonna shout it from the rooftops anyhow. This movie rules. This was my second time seeing it, but my first with an audience. The woman next to me screamed out loud on more than one occasion, the audience was tense and electric, the kind of shit you live for as a horror fan. It did not disappoint.
Day 3 - Saturday
Saturday kicked off with one of the festival's infamous immersive experiences, In Another Room. I admit, I was nervous. I've heard tales of these types of things, and I don't know if it's particularly my personal jam. But hey, when in Rome, right? We checked in with The Ministry, a duo of delightful gentlemen who provided us with a sealed envelope. Inside we found a map. And then we found the other two members of our party (who happened to be two folks who worked on the short film "Splinter" playing at the fest). The four of us spilled out onto the streets of New Orleans in search of our destination. When we arrived, we were ushered to the eighth floor of a hotel that didn't seem to be in use. Once on the eighth floor, we learned about the hotel's haunted history and then (foolishly?) entered a room at the end of a long hallway. A young girl answered our knock at the door, and we were invited into a children's bedroom circa mid-1990s. Artwork in crayon hung on the walls, and the little girl who greeted us used a flashlight to illuminate our way as she relayed the story of her deceased brother and a monster who had hunted them. We took shelter in a tent, and I screamed more than once, and also jumped onto a stranger who is no longer a stranger. (Thanks, immersive experience!) In the end, we attacked the monster with beanie babies, Nerf guns, and sheer gumption and survived our stay in a living ghost story. We even made some new friends, of both the living and the ghostly variety.
Next, it was off to The Kingcast! A live recording with Kingcast co-host Eric Vespe, special guest co-host Phil Nobile Jr., and guest David Farrier, the mind behind Dark Tourist and Mister Organ. The gang discussed Cronenberg's adaptation of King's Dead Zone (after having just watched a special anniversary screening). There was also some talk of cows. Not shockingly, it was a bonkers blast (we missed you, Scott!)
Evil Dead Rise was the other big bookend to the show, and holy moly, it packed the houses in both locations. To the shock of no one, it absolutely rocked our faces right off. The cheese grater scene is no less effective, even after cringing at it through numerous trailer views. I still had to bring a hand up to hang on standby in case I should need it. This shit is gruesome and wild and effectively brings the story into a new setting and era. I can't wait to see it again. My Mom is gonna be pissed at me for taking her to this one, but I can live with that.
Festival Co-Director Landon Zakheim celebrated Halloween all day, running around in a Beetlejuice wig and jacket. Halloween all day culminated in… yes, a Halloween party that night. Big thanks to all the costume suggestions you sent my way, apologies I did not go with any of them! We rushed back to the hotel post-Evil Dead Rise to conjure up our creepy best. My personal criteria for this costume: nothing too hot for the New Orleans heat, no face paint that would likely melt right off, must be instantly recognizable, and highly portable. Which negated about 99% of my usual ideas.
In the end, I went with Peter Graham from Hereditary. Hail Paimon won out, and though it felt a little like cheating, excited rounds of "Hail Paimon!" made me feel like I made the right choice. So Nancy Downs and I hit the party in a cool warehouse-looking venue. THOU took the stage and blew out our eardrums, and specially themed cocktails flowed (an eyeball garnish served on the side this time, wrapped in plastic with a warning to NOT consume). We rocked out with a monk (Ringworms filmmaker Will Lee), partied with half of RRR (Ariel Vida, Trim Season director and local Los Angeles RRR superfan), Midsommar's May Queen (complete with a tiny handmade Jack Reynor in bear suit boyfriend) escort, and lots of other ghouls. Later that night, we found ourselves at The Dungeon with festival organizers. It's not what it sounds like, but they also don't allow cameras, so again, you'll have to take my word for it and check it out for yourself next time you're in New Orleans.
Day 4 - Sunday
I started my morning with beignets and jury deliberations! You may know my affinity for championing short films, so I took my short film juror position very seriously, as did my fellow jurors. I came prepared to go to bat for titles, but there was no need. My cohorts, producer Greg Gilreath (Divide/Conquer), Sundance Film Festival programmer Ash Hoyle and I were pretty much in unanimous decision, and it says a lot that in such a stellar lineup, the same titles seemed to resonate for each of us. This was honestly incredibly tough. The level of creativity and talent in the program was incredible. We were once again reminded of how a resilient filmmaker can do so much with very little. In the end, Violet Butterfield: Makeup Artist For The Dead took home the top Jury prize (see all the festival winners here). It's no coincidence it also took home the audience pick. A wonderful amount of world-building; think Death Becomes Her post-Ernest.
En route to the Prytania Theatre Uptown, our Uber driver asked us if we liked haunted houses. I didn't know whether he meant a haunt experience or actual haunts, but I just answered with a blanket "yes." He asked if we wanted to see a haunted house with real "Wanna see a dead body?" energy. Without thinking, I yelled "YES!" And I know better. I watch Dateline. I'm gonna get scolded (again) for this. But I digress. I lived to tell the tale. The house in question… none other than Miss Robichaux's Academy for Exceptional Young Ladies from American Horror Story: Coven. I yelled this out, too and the Uber driver was pleasantly surprised we knew the house. Then we told him we were in town for a horror film festival, and he realized he was playing to his audience more than he could have imagined. Not only did he drive us by the house, but we also hopped out, and he snapped a couple of photos for us. And we were still hella early for our screening.
We may have missed the epic Matinee showing hosted by none other than Joe Dante and John Goodman, but we did catch a glimpse of them on the red carpet. Well, I saw the side of Goodman's face, and that was pretty exciting. A familiar old friend came to say hello as we waited in line. The one and only Dr. Fearless, social butterfly extraordinaire, greeted the line, entertaining folks before dashing off into the theater to prepare for… The Tingler! Dr. Fearless and "Coffin Joe Dante's Inferno" introduced the Vincent Price classic.
The theater was rigged with "tinglers" for a proper presentation William Castle would absolutely approve of. And it was a complete blast. The audience screamed and howled. One even fainted and had to be taken away on a stretcher by some oddly familiar-looking medical professionals! We came, we screamed, we got tingled! Seeing this the way it was always meant to be experienced was a gift. In Percepto! Check out a peek of Percepto! in action:
Continuing our David Dastmalchian Sunday… we headed back to the Prytania Theaters At Canal Place for Late Night With The Devil! Another early contender for favorites of the year, the world-building and originality here are really gonna knock your socks off. Filmmakers Cameron and Colin Cairnes, and star Dastmalchian were in the house to introduce the movie and do a post-screening Q&A.
We capped off the night with some Skeeball, where some members of the Give Me An A anthology found out they were better at the arcade favorite than they realized and...The return of the Tingler. We met the creative tasked with figuring out how to rig a theater in 2023 with Percepto! I held the contraption in my hand and then...brought it home! What a souvenir! My very own take-home Tingler. (And the Tingler made it through TSA!)
The goodbye party officially ended our extended festival weekend. Major thanks to the Overlook Film Festival organizers, staff, the filmmakers, and the volunteers for making it all happen. This was not my last night in New Orleans, but you'll have to wait a tad longer to read about my trip to Waxwork Records (?!) In the meantime, I'm excited to share my festival experience with you and to introduce you to some of these wildly wonderful filmmakers as their movies make their way to screens near you. As is always the case, the worst thing about festivals is that I cannot be in three places at once. I would be remiss if I didn't also mention Birth/Rebirth, My Animal, Give Me An A, Godless, and Trim Season, as just a few to have on your radar. We'll show them some more in-depth love later this year.
So often, when meeting a filmmaker for the first time, we'll chat a bit before it comes up that they made ___ movie. And I'm not even the slightest embarrassed when an unedited response comes spilling out of my mouth, "Holy shit, I loved that movie!" And that last bit probably sums up my personal favorite festival experience best. I always leave feeling grateful to celebrate some of our most talented contemporary creators and love getting to share them here. Laissez les bon temps rouler, mes chers.
Keep your eyes peeled for Overlook in 2024.