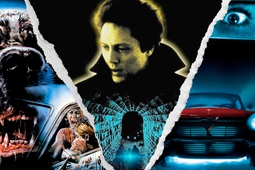 40 years ago, screens were rife with book-to-screen adaptations, and none fared better than the horror master's trifecta.
Star Vincent Cassel shared the news along with the first behind-the-scenes shot.
In which a Master of Horror awakes this morning to discover he is not a gigantic insect… but an octogenarian.
You can take home a limited-run Ear Man ear. Details within.
Cronenberg's latest is less than a month away from being devoured by our collective eyeballs.
And that goes doubly for CRIMES OF THE FUTURE.
The king of body horror is back, and in fine — and ever-evolving — form.
Are the pair revisiting the director's 1970 avant-garde plague film?