Paying tribute to their legacy, this year's festivities have lots to offer.
Chucky and Latin Monsters rule the park this year, and more of our scientific findings from the field.
Step into the fog with us for a look at this year's houses.
Creative Director John Murdy takes us behind the scenes of Chucky Ultimate Kill Count and Universal Monsters Unmasked.
Fellow icons are also getting in on the mayhem with UNIVERSAL MONSTERS: UNMASKED
Garçon, we'll have the acid pie shake, thank you.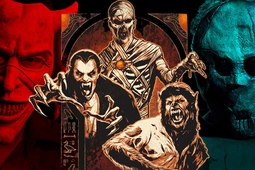 We're taking you behind the scenes of The Horrors of Blumhouse, and Universal Monsters: Legends Collide with HHN Creative Director John Murdy.
Peele's horrors join The Weeknd, KILLER KLOWNS FROM OUTER SPACE, La Llorona, and more!