The spirits of both H.P. Lovecraft and his cinematic champion Stuart Gordon live on in Suitable Flesh, an adaptation of the eldritch author's short story "The Thing on the Doorstep" that premiered Sunday night at New York City's Tribeca Film Festival. (It has another Tribeca screening this Friday, June 16 at 9:30 p.m.; go here for tickets.) FANGORIA got a chance to sit down with the team who brought this grisly and kinky story to the screen, including director Joe Lynch, producer/star Barbara Crampton and actors Heather Graham, Judah Lewis, and Johnathon Schaech.
Scripted by longtime Gordon collaborator Dennis Paoli, Suitable Flesh casts Graham as Dr. Elizabeth Derby, a therapist who is approached by a young man named Asa Waite (Lewis), who appears to be afflicted by a severe multiple personality disorder. She becomes unexpectedly and powerfully attracted to Asa, which brings her into the orbit of his damaged father, Ephraim (Bruce Davison), while her friend and colleague, Dr. Daniella Upton (Crampton), tries to help. Meanwhile, Dr. Derby's husband (Schaech) tries to deal with her strange new behavior and becomes part of what Lynch calls "a Lovecraft triangle" that involves a vicious and especially possessive entity.
Gordon had attempted to get this project, then also titled The Thing on the Doorstep, launched for over two decades, and Crampton explains how it came to fruition now. "As you know, I've been involved with a few movies Stuart directed—Re-Animator, From Beyond, Castle Freak…"
"Never saw 'em," Lynch cracks, to laughter from the group.
"And after Stuart passed away [in March 2020], I reconnected with Dennis Paoli," Crampton continues. "We were chatting and reminiscing, and I've been producing for a few years and asked Dennis what projects he had on his shelf that he hadn't been able to do with Stuart, just kind of on a whim. He said, 'Well, I have this one script I really like, based on Lovecraft's 'The Thing on the Doorstep.' I said, 'OK, send it to me,' I read it right away, and I was bowled over. I couldn't believe how much I loved it, I took it to my partners at AMP International to see if they liked it as much as I did, and they did. Then we started looking for a director, we talked to a few people, but Joe was at the forefront of my mind. He really liked it and then wanted to do a gender swap, and that's how it began."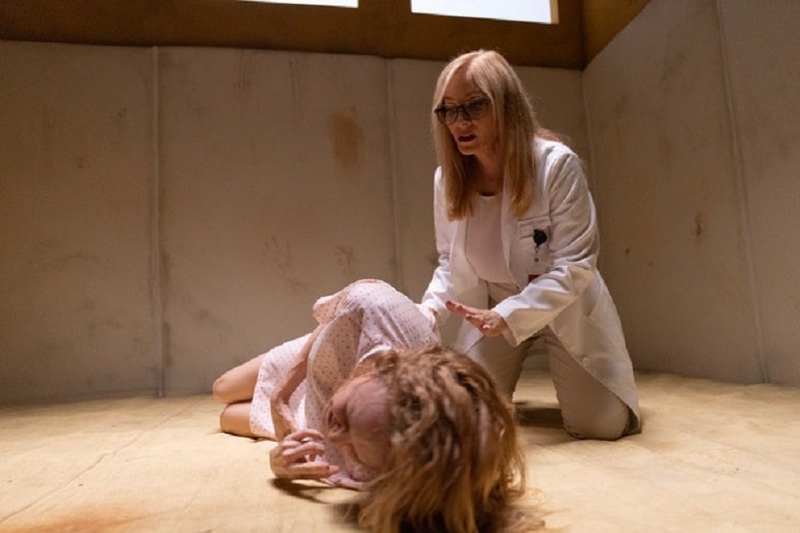 In both Lovecraft's tale and Paoli's original adaptation, the protagonist was Edward Derby (the name ultimately given to Schaech's character), and his friend was Daniel Upton. Although excited by the screenplay, Lynch says, "I also thought that at this particular time, knowing Stuart and that he was something of a cinematic provocateur—what would he do in this situation, in this culture and this time right now? I felt like what we could do was not just the usual, 'Hey, fellas, guess what? We're gonna swap the genders 'cause it's the cool thing to do!' It felt right to give it a female gaze because it hadn't been done often; it felt a little more dangerous and a lot more interesting. But I honestly thought, when I sent the notes back with that big caveat, 'Well, that's a pass for Lynch.'
"And immediately, Dennis and Barbara were like, 'Give us a couple of weeks,'" Lynch continues. "Next thing you know, I got the next draft, and it wasn't as if Dennis just changed Edward to Elizabeth and Daniel to Daniella in Final Draft; he had gotten really deep into what the perspective of these characters would be like as women, and how they would deal with desire and obsession and sexual identity, in ways that I don't think I had ever read before. That just made me so much more excited to do it."
Similarly, Graham was attracted to Suitable Flesh's "callbacks to the erotic thriller, movies like Basic Instinct and Body Heat. I love that genre, and it doesn't really get made as much anymore. I thought my character was so interesting, and what actor doesn't want to play a few different roles in the same movie? It sounded amazing, just the idea of playing a therapist and how smart she is."
Lewis, whom horror fans might recognize as the kid from Netflix's The Babysitter duo, takes a giant leap beyond those movies in Suitable Flesh. In person, he barely looks old enough to have played this much more mature and carnal role; Lynch crows, "Yes!" and claps when this writer makes that observation, and recalls, "We threw him into the fire, because it was his 21st birthday like four days after the first day of shooting, and we started him off with some of the craziest sex scenes."
"Joe bought me my first legal drink!" Lewis reveals, and the director says, "I'm very proud of that. Let's just say he became a man that week, big time."
The young actor also became much more familiar with the works of Lovecraft thanks to his involvement with Suitable Flesh. "This project was an education for me that I desperately needed, and didn't know I needed!" he says. "Part of the beauty of this film is that there are so many Easter eggs and bits that hardcore Lovecraft fans are going to identify and love. And there are also aspects of it that people who may be unfamiliar with his work are also going to love."
For his part, Schaech notes a direct connection to the film's originator: "I had written a piece for Masters of Horror that turned into an episode of Fear Itself ["Eater," co-scripted with Richard Chizmar from Peter Crowther's short story], and Stuart Gordon directed it. So that connection, when Joe called and gave me the pitch you just heard, had me like, 'wow, this is so exciting; I can't wait to see what they come up with.'"
What this team has created is a film (set for wider release later this year) that is certainly a tribute to Gordon, but is also its own unique thing, both in general and as part of the Lovecraft screen canon. "We dedicated Suitable Flesh to Stuart, and I'm very happy that we're getting to see a film he wanted to do realized," Crampton says, and then adds, "But when I initially talked to Joe about doing this, I said, 'This is not a Stuart Gordon movie, this is a Joe Lynch movie.' And that's what we have now."