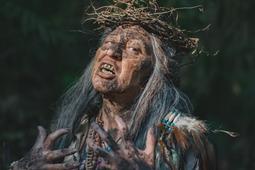 Exploring Mexican folklore in the all-Latino horror anthology.
Reuniting (and torturing) Norman Cabrera and Jonah Ray Rodrigues for the anthology's final segment.
Creature actor Morgana Ignis on horror origins and The Hammer of Zanzibar.
Inspiration, choosing the filmmakers and more with the producer of the Latino horror anthology.
THE BLAIR WITCH PROJECT director Eduardo Sánchez shares an exclusive sneak peek at his segment from the upcoming Latin horror anthology.
The anthology hits theaters in time to kick off Hispanic Heritage Month.