Director Ti West is back in a big way. 2022 has seen the House of the Devil filmmaker return to genre filmmaking with not one but two slasher films, establishing a new franchise for a new generation. Earlier this year, we were treated to X, a throwback, '70's-set slasher that introduced us to Mia Goth not only as Maxine, one of the young people trying to make a dirty movie on a farm, but also as Pearl, the murderous old woman who lived on that farm. Now, West is back with his second entry in the series, aptly titled Pearl, which hits theaters this weekend.
The prequel takes us back decades to catch up with Pearl in her younger years (once again played by Goth), and, not to spoil the surprise, but we get to see her add a few more to the ol' body count. In honor of the release of Pearl, we decided it would be a good idea to see how Pearl's kill count in X stacked up against other famous slasher debuts, including the likes of Michael Myers and Leatherface. (Make sure you check out the handy Kill Counts infographic at the bottom!)
Leatherface in Texas Chain Saw Massacre - 4 kills
Going back to Tobe Hooper's seminal 1974 classic, Leatherface got his kill on to the tune of four people. While that body count would grow substantially in the years to follow, with Netflix's Texas Chainsaw Massacre having a particularly high body count, Leatherface's debut was somewhat muted. But each of those kills was exceptionally brutal, and that certainly counts for something.
Michael Myers in Halloween - 5 kills
Moving onto John Carpenter's all-time classic Halloween, Michael Myers did slightly better than Leatherface, racking up a total of five on-screen kills. Myers may get bonus points here, given that his first kill, Judith, was decades removed from his night of famous murders in Haddonfield. Similarly, his total would balloon rather quickly in the timeline as Halloween II takes place on the very same night and sees him adding quite a few bodies to that initial total. Similarly, if we go with 2018's Halloween, Michael adds quite a few bodies to the pile, albeit decades later.
Jason in Friday the 13th Part 2 - 8 kills
Now we get to the king of the hill in terms of slasher debuts, as Jason Voorhees truly got the job done when he finally got the chance to take the spotlight. There is a bit of a caveat here as Jason didn't appear until the final moments of 1980's Friday the 13th, with the masked killer taking center stage in the sequel the following year. But when Part 2 rolled around, Jason wasted no time killing eight people on screen in a movie that is a mere hour and 27 minutes long. And that includes credits!
Freddy in A Nightmare on Elm Street - 4 kills
Wes Craven introduced us to one of the most unique slashers in history when Freddy Kreuger made his debut in 1984's A Nightmare on Elm Street. Here, we had a killer who could get you when you were most vulnerable: in your dreams! Be that as it may, Freddy kept it a bit on the conservative side with four kills. That said, he may have the most brutal kill in the bunch, with Glen's bloody bed death ranking as an all-timer.
Ghostface in Scream - 5 kills
Here we arrive at the slasher debut that might leave the most room for debate. Craven helped to bring the slasher genre back to life with Scream in 1996, with Ghostface becoming an instant icon. However, we ultimately come to find that it was both Skeet Ulrich's Billy and Matthew Lillard's Stu were sharing murder duties, amounting to a combined five kills. So, do we have to split that number up? Or do we just say Ghostface gets all five? This could be debated until long after we're gone.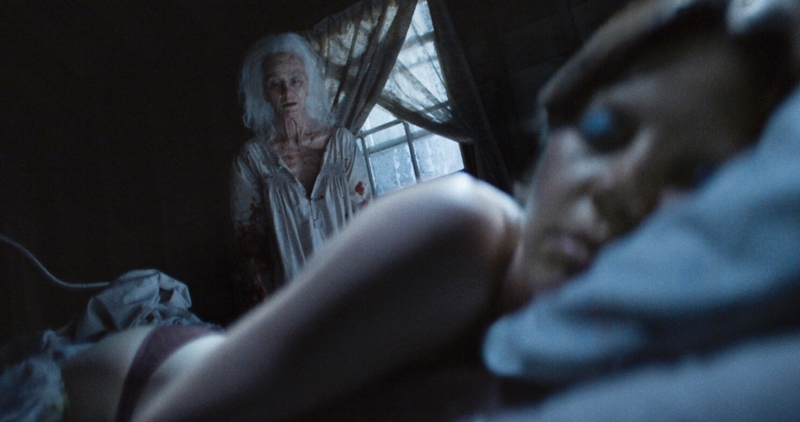 Pearl in X - 3 kills
Finally, we arrive at X, which featured quite a bit of bloodshed overall. Be that as it may, Pearl was splitting duties with her loving husband Howard, who added a few bodies to his resume. But Pearl still got in on the action with three brutal kills throughout the film. And, not for nothing, that's pretty good for someone who was well into her golden years. A last act of violence for someone who had been seemingly retired from the killing game for some time.
So, what did we learn? When it comes to slashers, it's a marathon and not a sprint. These legendary killers built up an equally legendary body count over time. It didn't happen overnight! It takes work to become a slasher legend. It also takes time, patience, and various sharp (sometimes blunt) objects. With that, our dear Pearl has literal decades worth of killing to do between the time she started killing and when we meet her in X. So our introduction to her was truly only the beginning - even if it was technically the end, chronologically speaking.
(Infographic by Jason Kauzlarich)
Pearl hits theaters on September 16. The second installment in the X universe follows Mia Goth's Pearl, trapped on her family's isolated farm, as she tends to her ailing father under the bitter and overbearing watch of her devout mother. Lusting for a glamorous life like she's seen in the movies, Pearl's ambitions, temptations, and repressions all collide, in the stunning, technicolor-inspired origin story of X's iconic villain.