Catch MIDSOMMAR, THE WITCH and more at your local AMC, and enjoy a free trial of A24 All Access.
Save your pennies while you wait for MAXXXINE!
"Is it legal?" "It will be."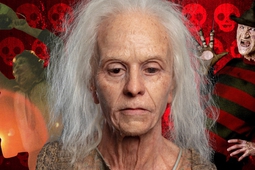 In honor of PEARL releasing in theaters, we're looking at X and other first entries in slasher franchises to see how the kill counts stack up.
Will you accept a life you do not deserve, or are you a fucking star?
She wants to be loved by you.
Makeup and hair designer Sarah Rubano discusses all the Killer FX in Ti West's X.
"This new home video market is set to explode."
Two brand new X-worthy playlists to groove to.
Ti West's X hits Blu-ray and DVD May 24th.
The DNA of Ti West's new film extends beyond '70s slashers, and earns its place in the canon of "psycho-biddy" horror.
Stars Mia Goth, Brittany Snow, Jenna Ortega, and director Ti West.
Hope you dug A24's new slasher film, because the prequel's already in the can.
Diving into the SCREAM star's past, present, and future within the horror genre.
One GD f***ed up horror picture.