A brand new set of drag artists take on the "biggest and baddest" season yet, on Shudder this Halloween!
Catch MIDSOMMAR, THE WITCH and more at your local AMC, and enjoy a free trial of A24 All Access.
AMC is letting WALKING DEAD fans watch the first episode of the new Daryl spin-off, free of charge.
"Somehow, self-amputation feels good in a place like this."
Featuring new movies every Friday, the return of Joe Bob Briggs, and more!
AMC has handed out early renewals for two WALKING DEAD spin-offs, ensuring the undead will live on.
AMC's other WALKING DEAD spin-off will be here before you know it.
The new entry into AMC's Immortal Universe will premiere in January, 2023.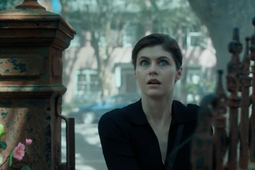 Mayfair Witches will be released in 2023 on AMC and AMC+.
AMC's Dan McDermott teases that AMC has big plans for Anne Rice's works beyond MAYFAIR WITCHES and INTERVIEW WITH THE VAMPIRE.
AMC has announced yet another show set in THE WALKING DEAD universe, which will star Lauren Cohan's Maggie and Jeffrey Dean Morgan's Negan.