In which David Gordon Green's EXORCIST sequel shows off the goods.
Plus, a brand new poster for Nahnatchka Khan and Blumhouse's time travel horror comedy.
AMC Theatres has revealed the runtime for the upcoming video game adaptation, and it's actually quite reasonable.
Nahnatchka Khan's time travel slasher comedy hits Prime Video on October 6.
Fresh footage from David Gordon Green's EXORCIST sequel really dials up the possession hijinks.
Including brand-new live show THE PURGE: DANGEROUS WATERS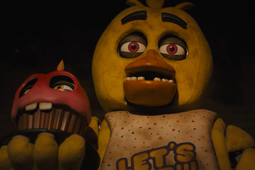 Emma Tammi's video game adaptation arrives on October 27th.
But they won't be skimping on the blood.
The second entry into Blumhouse's sequel trilogy will continue the terror of THE EXORCIST: BELIEVER.
"The body and the blood! THE BODY AND THE BLOOD!"
Blumhouse and Plimsoll Productions are teaming up for a very unique nature series.
The producing pair are back to take us into the Further one more time.
The director of EDEN LAKE is back to traumatize us all over again.
A new scripted podcast from iHeartPodcasts and Blumhouse Television is coming to your ear holes.
Our favorite it girl is the face of the latest Marc Jacobs campaign.