Betty Gilpin and Benjamin Bratt star in the anime series, which premieres in June.
The sci-fi anthology series will return to Netflix in June.
The Duffer Brothers teamed up with Jeffrey Addiss and Will Matthews for this new sci-fi series.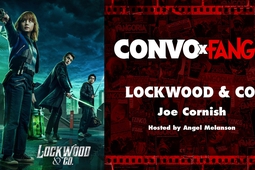 Plus some news on the upcoming ATTACK THE BLOCK sequel.
And more with director Chris Landon and stars Anthony Mackie, and Jahi Di'Allo Winston of the new Netflix original.
A thirst for answers and a quest to carry on.
Netflix's third most popular series of all time will return at an as-of-now unannounced date.
Yeon Sang-ho's tale of a dark dystopian future will hit Netflix on January 20th.
Why the popular Vietnamese-American filmmaker's first brush with episodic storytelling should be your next mystery binge.
The Norwegian kaiju feature has racked up over 128 million hours of viewings.
The man behind THE HAUNTING OF HILL HOUSE and MIDNIGHT MASS has a new deal at Amazon.
Tim Burton's WEDNESDAY was viewed a record number of hours in its first week, according to Netflix's viewership metrics.
Demogorgons, and Surfer Boy Pizza, and Scoops Ahoy, oh my! An inside (spoiler-free) look.
Netflix just dropped a slew of WEDNESDAY sneak peek stills in time for Halloween.
The YA-horror-fantasy series will premiere on October 28th.