Inspired by the works of King and Spielberg, coming early 2024.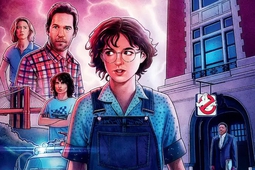 The upcoming comic book miniseries will bridge the gap between AFTERLIFE and FROZEN EMPIRE.
Pre-code Marvel Comics are being resurrected!
In honor of James Tynion IV and Michael Avon Oeming's BLUE BOOK: 1947, read the first issue from Volume 1 right now.
R.L. Stine's STUFF OF NIGHTMARES: RED MURDER is on deck, a new CREEPSHOW volume, and more!
The kings of the monsters will face DC's biggest heroes in an epic crossover comic beginning in October.
The comic book series will make use of Sam Raimi's original ending to the 1992 EVIL DEAD sequel.
David Dastmalchian and an A-list lineup of creatives have teamed up for the HEADLESS HORSEMAN HALLOWEEN ANNUAL.
Skybound has partnered with Universal and some A-list creators to bring some classic monsters back to life.
Daredevil, Spider-Man and Moon Knight are at the center of these new stories.